Equipment
DU2SRI Facilities, Equipment and Other Resources
The Institute has a large complement of ground and airborne platforms instrumented with state of the art sensors and custom-made general purpose navigation controllers. Among other hardware, an FAA-approved simulator, the X-Plane Simulator is used to test airborne systems and for hardware-in-the-loop / software-in-the-loop validation and verification. Details about available resources and the overall infrastructure of the DU2SRI are presented below.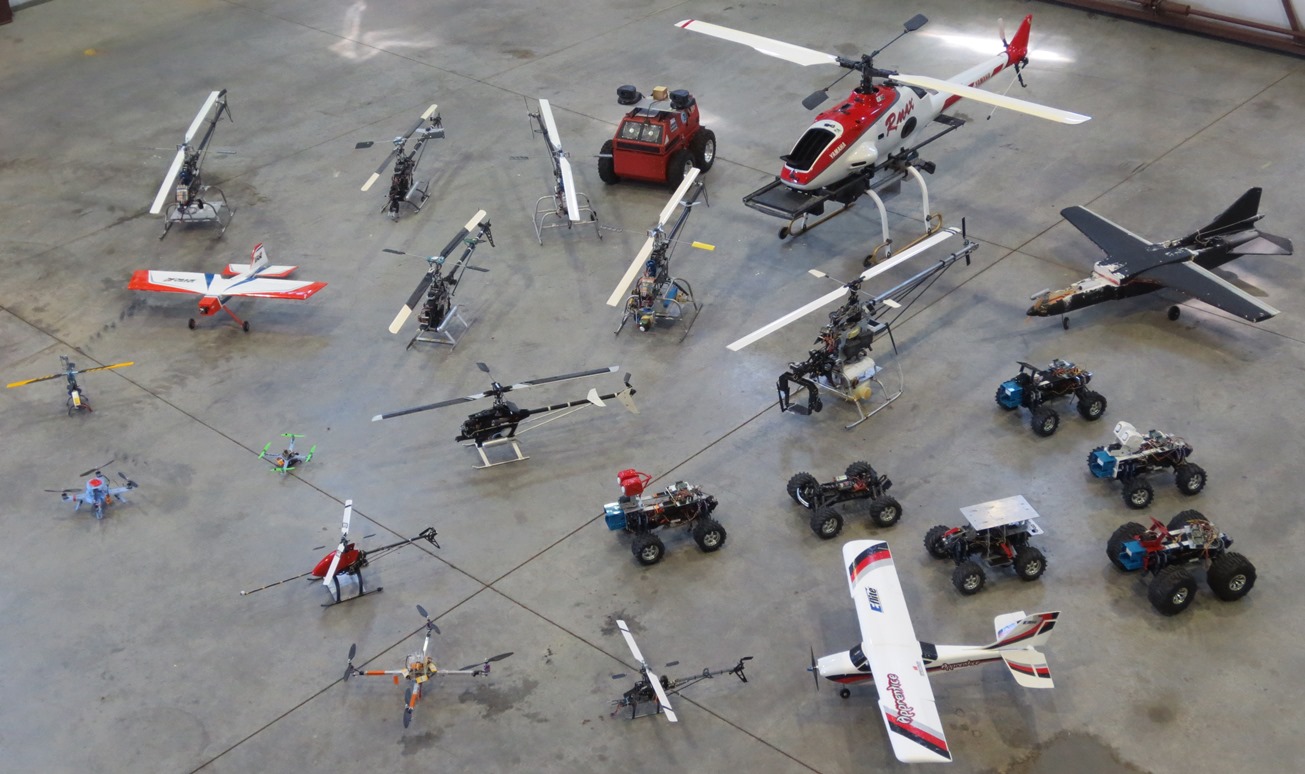 Unmanned Ground Systems
Five (5) Unmanned Ground Vehicles (UGVs) initially custom-built for Army Research Laboratory (ARL) needs, capable of fully autonomous sensor-based operation, swarm formation and fault-tolerant based missions where UGVs may enter/leave the swarm formation in real-time following failure detection, identification,  accommodation, recovery, as needed. Single and multiple failures can be accommodated in real-time. On-board sensors include GPS, IMU, laser, stereo-vision system, general purpose custom-made navigation controller, in addition to encoders, odometers, etc…
One ATRV Jr, all terrain mobile robot, with diverse sensor suite, capable of fully autonomous indoors and outdoors navigation and real-time, on-line single/multiple sensor failure detection, identification, isolation and recovery. For this UGV, a complete power consumption optimization has been completed that increases endurance for more than one order of magnitude (from 1.5 hours to almost 18 hours of operation).
Unmanned Aircraft Systems (UAS)
The current fleet of available unmanned aircraft includes more than 17 (electric and non-electric) aerial platforms any experimental proof-of-concept-demonstration.
The Yamaha R-Max unmanned helicopter, which due to its size and weight, is now physically located at the Front Range Airport in Denver, where the Institute keeps an office and a hangar for experiments.
Five unmanned, fixed-wing platforms with spare parts for these systems. These platforms are used for diverse projects, as well as for demonstrating autonomous flights under different conditions.
Two TRex 450 helicopters for training new pilots on electric aircraft. One Raptor 30 and two Raptor 90 helicopters for training new pilots on nitro-methane fueled aircraft.
Five Maxi Joker II platforms equipped with autonomous flight controllers, scanning laser rangefinders, video transmission hardware, etc.
Two quadrotor UAVs. One open-source Arducopter vehicle and one Parrot AR drone.
One Rotomotion helicopter for long endurance missions (flight times in excess of 1 hour).
The DU2SRI team also has the ability to fabricate complete vehicles in-house using additive manufacturing techniques. This allows for extremely rapid turn-around times and independence from external suppliers.
Custom built (to scale), general purpose prototype landing / take-off platforms for miniature-, small-, medium- size unmanned helicopters. One such platform will shortly have refueling/recharging capabilities. The platform shown below is designed to meet FAA requirements related to leveling and alignment.

Recent purchase

: DU2SRI has received two Class I, Bergen Industrial Turbine unmanned helicopters, which will be equipped with an in-house built sense-and-avoid radar-based system.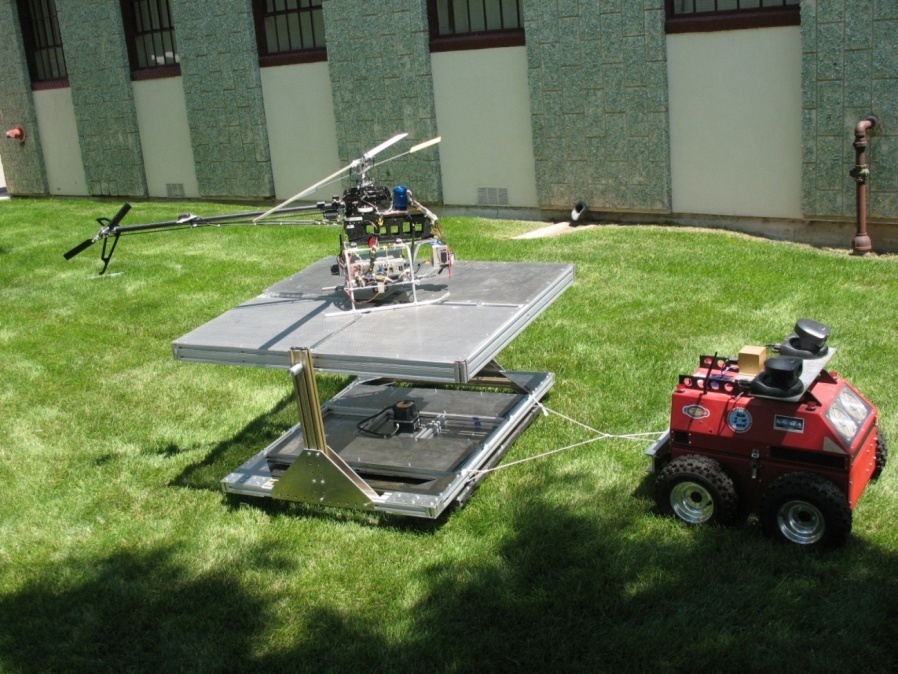 Simulation Capabilities
Part of the current DU2SRI infrastructure includes a complete 'design and simulation system' fully interfaced and integrated with MATLAB/Simulink. Our staff is capable of paper-and-pencil navigation controller design, simulation via the X-Plane Simulator hardware-in-the-loop, software-in-the-loop validation, verification and troubleshooting, code conversion to machine language, and printed circuit board (PCB) configuration layout, before actual implementation on real platforms and testing. The Institute is also equipped with software packages like SolidWorks, CIFER, ANSYS, ANFYS, AutoCAD, etc.
Electronics Design and Fabrication Capabilities
Most recent research in DU2SRI focuses on using XMOS based technology across the board for all custom-built navigation controllers designed for airplanes, helicopters, quadrotors, new ground robots, sense-and-avoid RADAR systems, landing platforms, etc. A number of these processor boards are designed and assembled by DU2SRI personnel using in-house technology. Prototype development is facilitated by the ability to produce Printed Circuit Boards (PCBs) on CNC PCB mills. The resulting components are evaluated using a full complement of diagnostic equipment prior to installation on any vehicle platform.
Mechanical Design and Fabrication Capabilities
Prototype development by DU2SRI staff is greatly assisted by the ability to fabricate mechanical components in-house using a variety of different manufacturing techniques and utiliting a number of different tools including: 3-axis CNC Mills; 2-Axis CNC lathes; Fused Deposition Modeling (additive manufacturing techniques) using both ABS and PLA feedstocks; Hot wire CNC cutters for fabricating composite material cores.